Unleash Cinematic Sound with the Amazon Fire TV Soundbar
Written by
Alison Lurie
, In
Gadgets
, Published On
November 8, 2023
,
4 Views
The Amazon Fire TV Soundbar is a visually appealing and clever audio device that combines the functionality of a soundbar with the ease of use and accessibility of Amazon's Fire TV streaming service.
Amazon Fire TV soundbar specifications:
| | |
| --- | --- |
| Specification | Details |
| Product size | 24" x 3.5" x 2.5" |
| Weight | 3.9 lbs |
| Speaker channel | 2.0 |
| Audio power | 2x20W |
| Ports | HDMI, USB-A, OPTICAL |
| Bluetooth support | Yes |
| Compatibility | TVs with streaming media players and smart TVs |
| Inside the box | A guide for starting it, wall mount kit, fire TV soundbar, HDMI cable, remote, power cable plus two AAA batteries |
| warranty | 1-year warranty in the box but US residents may purchase warranty of one or two years |
Design and Dimensions:

With dimensions of under 24 inches in width, 2.5 inches in height, and 3.5 inches in depth, the Amazon Fire TV Soundbar boasts a stylish yet functional design. Its exterior is made of black plastic and features rounded corners and a black mesh grille on the front. The control buttons on the top surface of the display allow you to turn the soundbar on and off, choose inputs, adjust the volume, and couple it with Bluetooth devices.
Performance: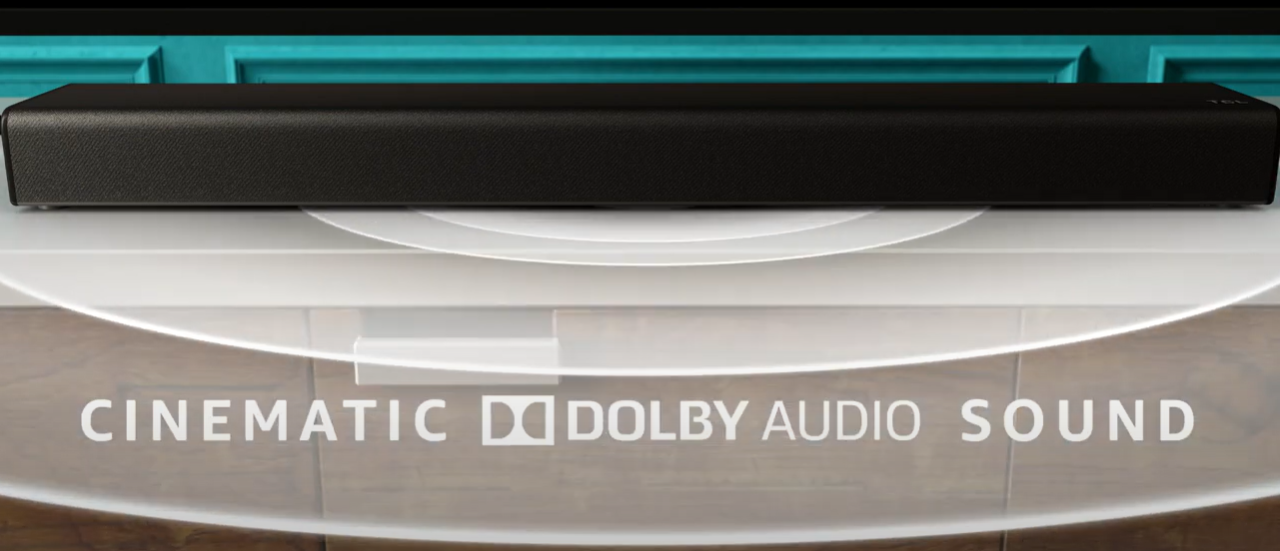 This adaptable soundbar is made to improve your TV-watching experience by giving you easy access to a wealth of streaming media and intelligent features along with excellent audio quality. It differs from the Roku Streambar Pro in height by a little over half an inch, although it is smaller overall—roughly two-thirds the length of the latter.
Connectivity options: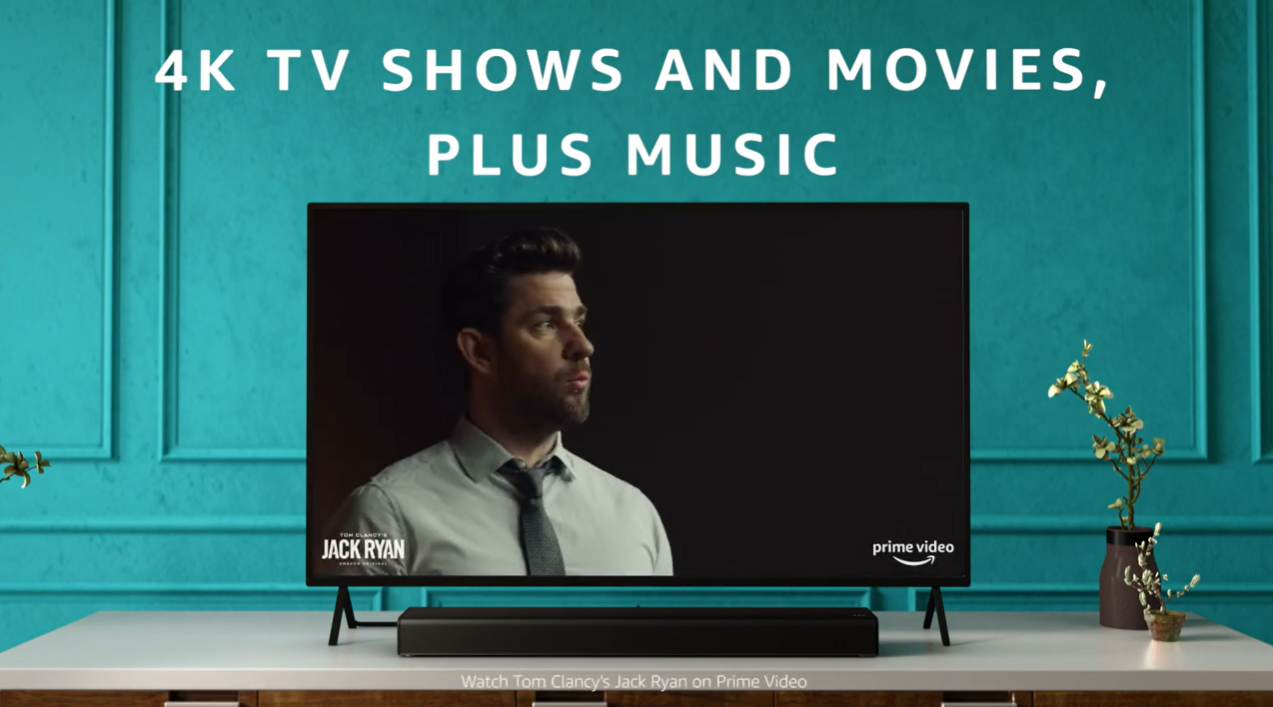 The rest of the speaker is composed of a single piece of glossy black plastic, and the front of the soundbar is completely covered with black grille cloth. Several connecting options are available for this sound bar, including Bluetooth for music streaming and HDMI and optical digital ports for TV connections. With connectivity options like Bluetooth and HDMI that support ARC and eARC, the soundbar is adaptable enough to work with non-Fire TV devices as well.
Features:
When you need to quickly adjust the volume without fumbling for the remote, having physical buttons on top can be a helpful feature. However, the lack of important features may disappoint some users. While doing away with the exclusive remote control is a positive move, those looking for a more integrated and smart home-compatible music solution may find a gap in the absence of popular features like built-in Wi-Fi and Alexa integration.
Integration: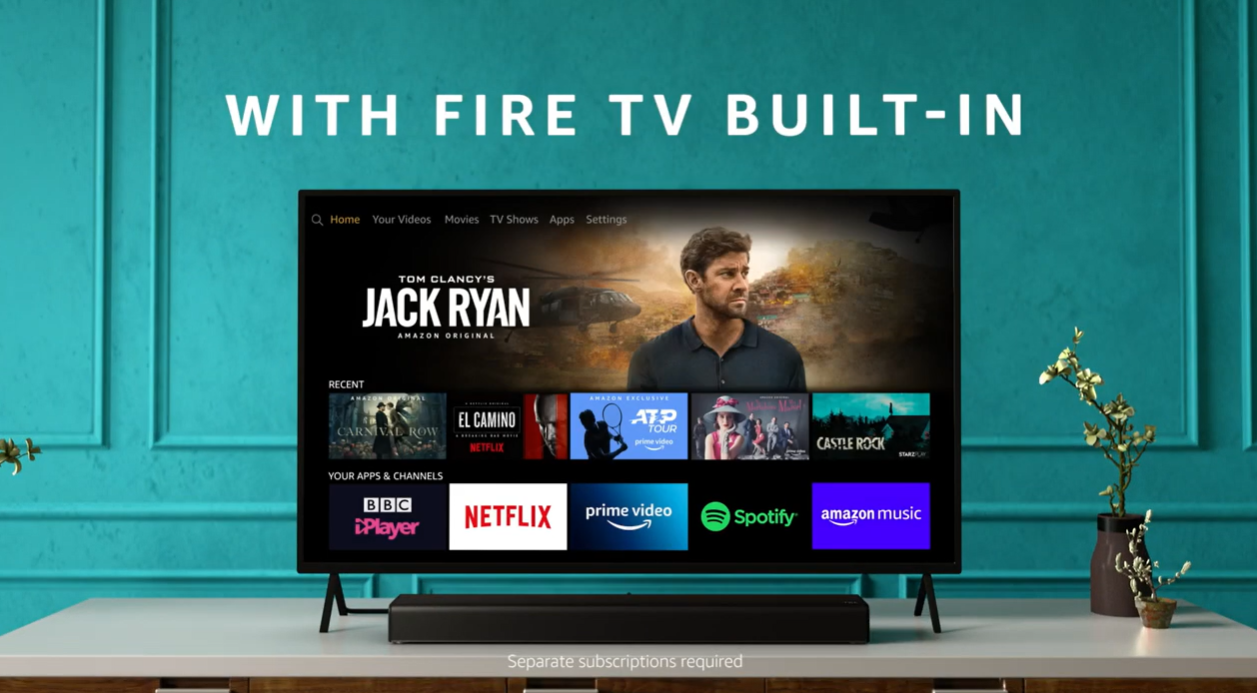 It is advertised as compatible with Fire TV, but it does not have any Fire TV-specific features at this time. However, the Amazon Fire TV Soundbar is still a good option for people searching for a straightforward and affordable soundbar to enhance the audio quality of their TV, particularly if their TV is HDMI eARC/ARC compatible.
Amazon Fire TV Soundbar Pros And Cons
| | |
| --- | --- |
| Pros | Cons |
| Affordability: It is an affordable option for a soundbar to improve your television's sound quality at just rupees $119 | Limited features: Its absence of some crucial features, like integrated Wi-Fi and Alexa compatibility, may disappoint customers searching for a more comprehensive and smart home-compatible option. |
| Connectivity: Multiple connectivity options such as HDMI, Bluetooth, and optical digital ports. | No Fire TV-specific Features: It does not have any features unique to Fire TV at the time of review, even though it is advertised as compatible with Fire TV. |
| Physical controls: The physical buttons are really handy for controlling volume. | Heavy male voices: Occasionally, even with the Bass setting adjusted for a more immersive movie-watching experience, male voices may sound too heavy. |
| Sound quality: A good sound quality, comprehensible dialogue with duplicate processing to enhance the acoustic exposure. | |
Conclusion:
People who are looking for an affordable soundbar have this Amazon Fire TV soundbar as a really good choice. Because it has a comparatively lower price than the other soundbars in the market. It is a gadget with an easy setup that might be intriguing for those people who prefer a rather complicated setup as it isn't certified with Dolby Atmos. So, if you are looking for a heavy beat in an affordable range it is the best choice for it.
FAQs:
Is it possible for Amazon Fire TV Soundbar to be wall-mounted? If it is so then what type of hardware is used for it in the kit?
Yes, Amazon Fire TV Soundbar is possible to be wall-mounted. All the hardware is available in the kite to wall mount it. The two openings on the back of the soundbar are planned to be built for integrating it into your home entertainment system.
What are the differences between Roku Streambar Pro and Amazon Fire TV Soundbar in operation and attributes?
The main points of differentiation between Roku Streambar Pro and Amazon Fire TV Soundbar are their delineation and physical proportions. Amazon Fire TV soundbar is rather shorter and two-thirds of Roku Streambar. Feature-wise, the vast media library is easily accessible with the Amazon Fire TV Soundbar because of its interaction with the Fire TV streaming service. On the other hand, the Roku Streambar primarily aims to make it possible for buyers to connect to the Roku platform. It will be better to contrast them based on your requirements.
Elaborate on the features of the Amazon Fire TV soundbar like voice control, streaming service compatibility, sonic quality, and other smart features.
Amazon Fire TV Soundbar will offer quick access to a broad range of online content and smart features as well and it will also improve your TV's sound quality. Due to its voice control features you can browse and regulate your device with voice commands, and also have access to a wide range of streaming services like Netflix, Amazon Prime, and Hulu. These features will make your TV watching more enjoyable.