Asus Rog Strix Gl753: Review
Written by
Alison Lurie
, In
Gadgets
, Published On
April 5, 2023
,
354 Views
Last modified on
October 16th, 2023
If you want a gaming PC but don't have enough money to buy one ready for virtual reality, you can still find a laptop that will play most games. TheAsus Rog Strix Gl753 ($1,099 to start, $1,299 as tested) is one of the first laptops on the market with Nvidia's GTX 1050 Ti GPU and the company's first RGB-backlit keyboard to add some color. It's a good laptop, but other systems with similar specs will cost less than $1,000.
Asus Rog Strix Gl753 Specifications
| | |
| --- | --- |
| Bluetooth | Bluetooth 4.0 |
| CPU | 2.8-GHz Intel Core i7-7700HQ CPU |
| Card Slot | SD memory reader |
| Display Size | 17.3 |
| Graphics Card | Nvidia GeForce GTX 1050 Ti (4GB) |
| RAM | 16 GB |
| Touch Pad Size | 4.1 x 2.8-inches |
| Weight | 6.4 pounds |
Pros
A comfortable keyboard with RGB lighting
It stays cool while gaming
Bright screen
Above-average battery life
Cons
Not a beauty
Finicky touchpad
Has trouble with games that are hard on high settings
Design

Asus took the great design of its high-end Asus Rog Strix Gl753 machines and made it simpler for its cheaper machines. The result is a plastic beast that looks more tacky than sleek. The lid is made of black plastic with a pattern that looks like aluminum. The premium machines have lights on the sides of the logo, but the Strix has orange neon paint on the lid to make it look like the bed of a race car. When you lift the top, you can see a 17.3-inch 1080p screen and an island-style keyboard with a number pad.
Under the palm rest, a few more orange accents on the speakers face the front. For a 17-inch gaming laptop, the Strix is light at 6.4 pounds and 16.3 x 10.7 x 1.3 inches. The Alienware 17 R3 is 8.3 pounds heavier and 16.9 x 11.5 x 1.3 inches bigger than the R2. The 14-inch MSI GS63VR 6RF Stealth Pro is lighter at 4.2 pounds and smaller at 14.9 x 9.8 x 0.7 inches, which doesn't come as a surprise.
On the sides, some ports let you connect to external displays and add other devices. On the left side of the laptop there are:
An Ethernet port.
HDMI and Mini Display Port outputs.
Two USB 3.0 ports.
One USB 3.1 Type-C port.
A headphone/microphone jack.
On the right side are a lock slot, a Blu-ray drive, another USB 3.0 port, and a USB 2.0 port. Just under the palm rest is a hidden SD card reader.
Display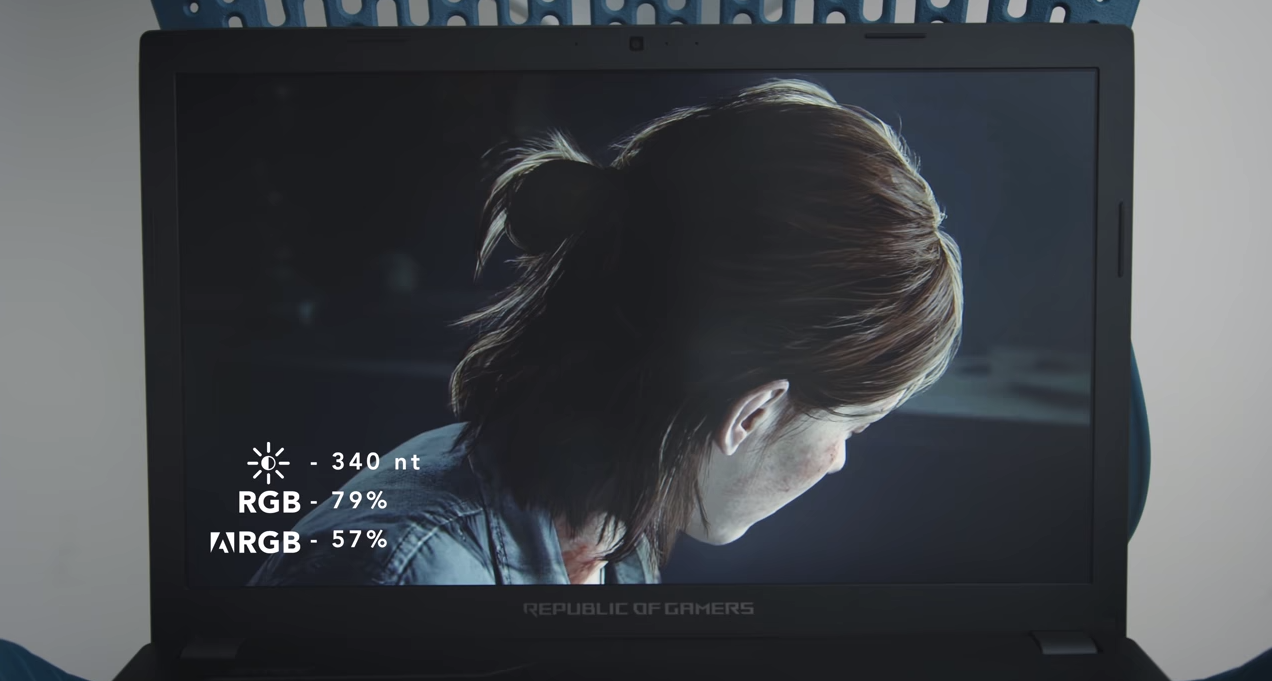 The Asus Rog Strix Gl753 comes with a 17.3-inch, matte, and 1080p display. This provides sharp, clear image quality, but it isn't as bright as the competition. When I watched the latest Power Rangers trailer, I could see every cube that made up Zordon, played by Bryan Cranston. During a fight with the Power Rangers, Elizabeth Banks' Rita Repulsa costume was a deep emerald green that stood out against the street. With 178-degree viewing angles, I could see the trailer even on the laptop's opposite side.
Costs And What's Available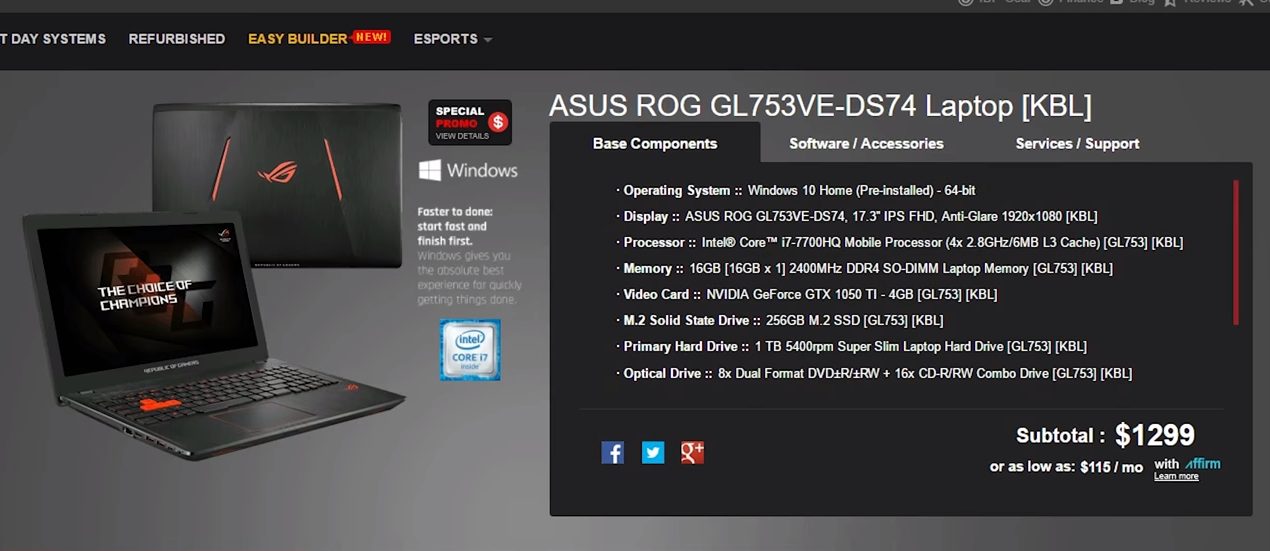 That's where the balance comes in, of course. The GL753 has a lot going for it, but where other laptops like the HP Omen 17 go all out with a GTX 1070 graphics card and a 4K, G-Sync screen, the Strix Gl753 plays it safe with a GTX 1050 Ti. It also manages to squeeze in many features for the price, making it just $150 more than Dell's similarly-equipped but smaller New Inspiron 15 7000 Gaming laptop. The GL753, which costs $150, comes with more than just a bigger screen. It also has a backlit RGB keyboard and a device to read and write DVDs.
Performance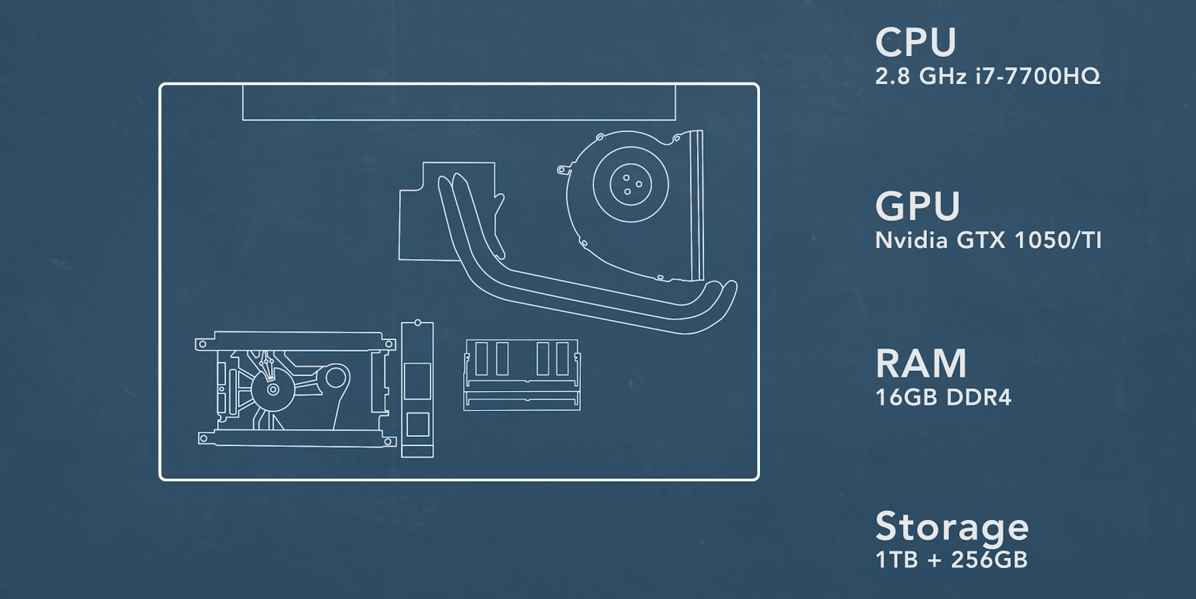 The Asus Rog Strix Gl753 has a 4GB NVIDIA GTX 1050 GPU, a quad-core Intel Core i5-7300HQ processor, and 12GB of RAM. This means that you can play games well in higher settings. Even though the i5 processor might be better for creative people than the i7, it works fine for gaming. You also get a 128GB m.2 SSD and a 1TB HDD for storing large amounts of data. But, as with other ASUS laptops, the SSD could be faster than the best on the market today.
Audio And Keyboard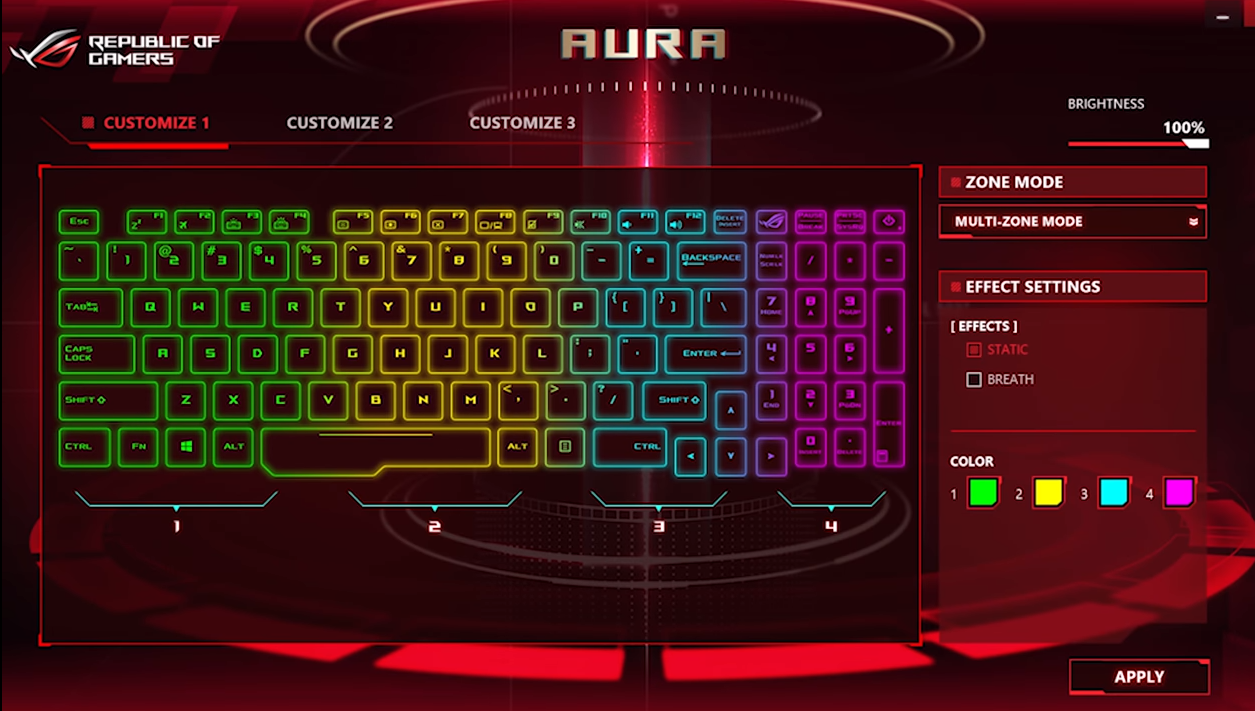 The Asus Rog Strix Gl753's speakers are loud. When I put on Tegan and Sara's "Closer," a blast of synths, vocals, and drums immediately filled our small conference room. I switched to the Action preset on the pre-installed Dolby-powered ICEpower AudioWizard, which brought out the percussion and cymbals. However, most people will be happy with the default Multimedia setting if they watch YouTube videos. When I played Batman: Arkham Knight, I noticed that the speakers were loud when the Batmobile fired missiles at drones and enemies talked on walkie-talkies. But the music in the background was quiet. I switched to action mode, which made the soundscape more interesting.
FAQs
How long does a battery last?
Most desktop replacements will run out of power before the Asus Rog Strix Gl753 does. It lasted 5 hours and 25 minutes on the Laptop Mag Battery Test, which involves constantly browsing the web over Wi-Fi. That's 1 hour longer than the average (4:23) and much better than the Stealth Pro (2:54). At 6:07, the Alienware lasted the longest, possibly because it had a graphics card from the last generation.
Keyboard features of the laptop?
RGB backlighting allows four-zone key color changes. 2.5mm travel distance is due to higher keys. They have more movement and springiness than others, but each press feels mushy—not tactile like mechanical key switches.
What are the key features of the ASUS ROG Strix GL753?
The ASUS ROG Strix GL753 is a gaming laptop known for its powerful performance, high-quality display, and gaming-centric design. It typically features a high-refresh-rate display, powerful processors (e.g., Intel Core i7 or AMD Ryzen), dedicated graphics (NVIDIA GeForce GTX or RTX), and customizable RGB lighting.
What is the screen size and resolution of the GL753?
The GL753 typically comes with a 17.3-inch display, and the resolution varies but is often Full HD (1920 x 1080 pixels).
Can I upgrade the RAM and storage on the GL753?
Yes, many versions of the GL753 allow for RAM and storage upgrades. It may have additional RAM slots and an extra M.2 slot for SSDs. It's recommended to check the specific model's documentation for upgrade options.
What are the gaming performance and frame rates on the GL753?
Gaming performance on the GL753 depends on the specific configuration you choose. With a dedicated GPU, it can handle modern games at high settings, and frame rates will vary depending on the game and GPU model.
Is the GL753 suitable for content creation or video editing?
Yes, the GL753 can be used for content creation and video editing, thanks to its powerful hardware. Models with high-end CPUs and GPUs are capable of handling demanding tasks effectively.
How is the cooling system in the GL753?
The ROG Strix laptops typically have efficient cooling systems with multiple heat pipes and fans to keep the temperature under control during gaming or other intensive tasks. They may also offer fan control options for customization.
Does the GL753 support virtual reality (VR) gaming?
Yes, if you choose a model with a powerful GPU (e.g., NVIDIA RTX series), it should support VR gaming. Just make sure you have the necessary VR equipment and software.
What is the battery life of the GL753 during gaming and regular use?
Battery life during gaming is typically limited, as gaming laptops are power-hungry. You might get a few hours of gameplay on a single charge. During regular use, it can vary but is often around 4-6 hours, depending on usage and power settings.
Is there a Thunderbolt 3 port on the GL753?
Not all GL753 models have a Thunderbolt 3 port, so it's important to check the specific configuration to see if this feature is included.
What is the pricing range for the ASUS ROG Strix GL753?
The price of the GL753 can vary significantly based on the configuration and the region you're purchasing it in. It generally falls in the mid to high-end gaming laptop price range.