Sony Bravia A75L: A Premium OLED TV that Delivers Stunning Picture Quality
Written by
Deepak Bhagat
, In
Gadgets
, Published On
November 18, 2023
,
23 Views
Sony has reaffirmed its dedication to offering excellent viewing with its Sony Bravia A75L. This beautiful sleek-looking television doubles up as a work of art, in addition to being a technological marvel that fits perfectly into any room of your house. Its powerful internal display technology lies at the very core of the A75L. Featuring a High-Resolution 4K HDR OLED panel, every single pixel bursts into life with breathtaking clarity and exquisite color shades. HDR is also one of the features involved in this aspect as every scene comes alive within a spectrum of colours ranging from light to dark. The visual quality is outright stunning if you're watching movies, playing games, or streaming online stuff.
Specifications for Sony Bravia A75L
| | |
| --- | --- |
| Specifications  | Details  |
| Screen Size (inch, measured diagonally) | 65″(64.5″) |
| Screen Size for WEB(diagonal, cm, integer or 1st decimal) | 164 cm |
| Display resolution (H x V, pixels) | 3840 x 2160 |
| Display Resolution | QFHD |
| Backlight type | OLED |
| Resolution | 3840×2160 pixels |
| Format | 4K Ultra HD |
| Refresh Rate | 120 hertz |
| Aspect Ratio | 16:09 |
| Audio Power Output | 10W + 10W + 10W + 10W |
| Speaker Position | Down Firing + Front |
| Bass/Treble/Balance | Balance |
| Speaker type | Acoustic Surface Audio |
| Speaker Configuration | Full Range (Bass Reflex) x 2, Actuator x 2 |
| Digital audio out (Optical) format | Two channel linear PCM: 48kHz 16bits, Dolby Audio, DTS(Pass through mode only) |
| Features specified in HDMI2.1 | 4K120/eARC/VRR/ALLM |
| Electronic Program Guide (EPG) | Yes |
| Screen Reader | Yes |
| Audio Description | Yes |
| Text Magnification | Yes |
| Auto Picture Mode | Yes |
| Accessibility Shortcut | Yes |
| Chromecast built-in | Yes |
| Voice Search | Yes |
| Application Store | Yes (Google Play Store) |
| i-Manual | Yes |
| Parental Control | Yes |
| Channel Block (with password) | Analog & Digital |
| Show/Hide Channels | Yes(Digital&Analog) |
| Sleep Timer | Yes |
| USB drive format support | Yes (Supported File System: FAT16/FAT32/exFAT/NTFS) |
Key Features for Sony Bravia A75L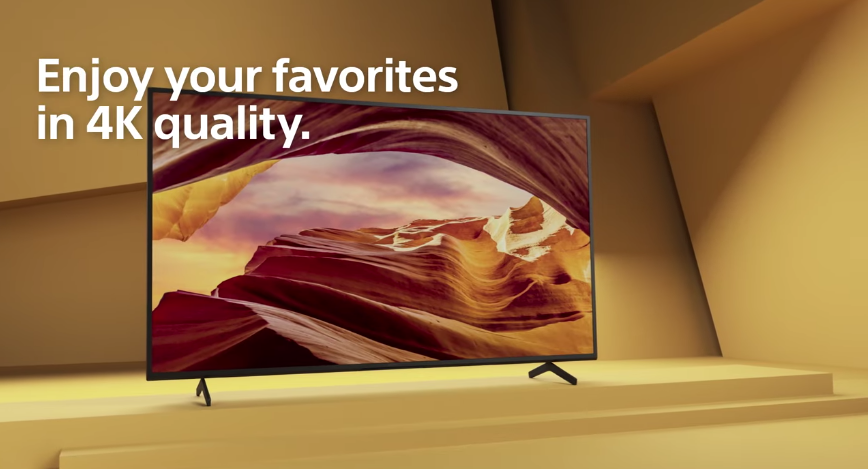 OLED Display Technology
It contains a top quality OLED panel which produces deep blacks and outstanding contrast ratios for excellent viewing pleasure. Superior picture quality, lifelike images, and vibrant colors are possible using OLED technology which enables individual pixel control.
X1 Ultimate Processor
The A75L comes with an upgraded X1 Ultimate processor by Sony that provides the best possible resolution, sharpness, clarity, and brightness in real time. HDR remastering uses a proprietary process called Object-Based HDR Remaster technology to enhance HDR content for an optimized viewing experience by analyzing and improving each object in the scene individually.
Acoustic Surface Audio
TV Acoustic Surface Audio technology uses the screen itself as a speaker to create an enhanced listening environment. Sounds seem to be emanating from the screen in correlation with onscreen movement, creating a one-of-a-kind visual listening enjoyment.
High-Resolution Audio Support
High-resolution audio format is supported by A75L and caters to audiophiles with an improved surround view. Improves the whole performance of the audio with clearer and more detailed sound.
Android TV and Voice Control
Based on Android TV, it's easy to use and includes many applications from the Google Play Store, streaming apps, and games. Smart voice control compatibility with most common virtual assistants makes the device very user-friendly.
Sleek and Minimalistic Design
The A75L is the best slim 4K LED TV designed with thin profiles that make it possible for almost the entire surface to be viewed without any bezels thus creating an eye-catching look in your home. Compliments advanced technology within, a nice addition to any house decor.
Pros & Cons of Sony Bravia A75L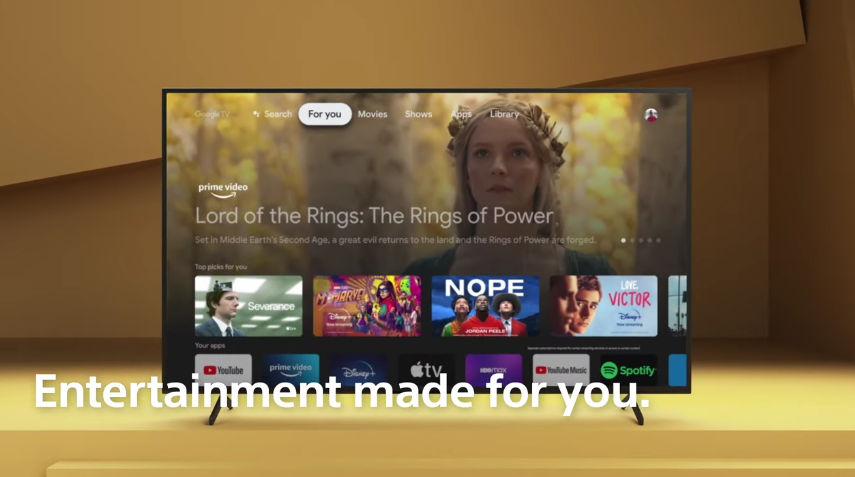 | | |
| --- | --- |
| Pros | Cons |
| Excellent picture quality: It is a top-of-the-line TV of the Sony Bravia A7FL series which has superior picture quality. It creates dark black colors, light white ones, and colorfully clear images. | Limited brightness: Most people think that OLED TVs are not as bright as some other types of TV – the LED TV for example. This may be an issue when it comes to bright rooms. |
| Impressive sound quality: Sony Bravia A7FL has internal sub-woofers giving it an excellent audio delivery. The TV also supports Dolby Atmos and DTS: Listen through X for an ultra-immersive audiovisual experience | Potential for burn-in: Also, OLED TVs face a problem of burn-in, that is, permanent image retention. Such a case occurs when one keeps static images on the screen for prolonged periods. |
| Wide range of features: Sony Bravia A7FL supports HDR10, Dolby Vision, as well as HLG. In addition, there are many intelligent products on this TV, including Google Assistant and Amazon Alexa. | Not suitable for gaming: Some other TVs are better than the Sony Bravia A7FL. Its input lag is not bad but it's not specific for gaming, it lacks some gaming features. |
| Long lifespan: The Sony Bravia A7FL is an OLED TV that has a reputation concerning longevity, meaning it will serve you for many years. | High Priced TV, it might not fit in your tight budget |
Verdict about Sony Bravia A75L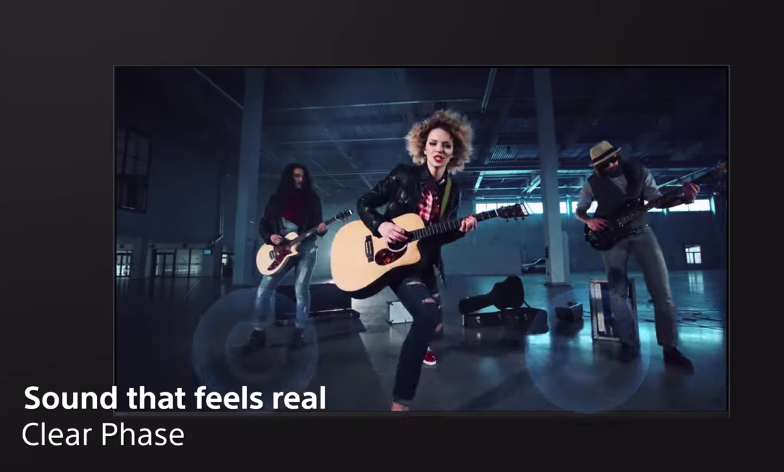 Sony Bravia A75L is an amazing OLED TV for provides breathtaking image details, an array of features, and also a high-quality gaming session. An OLED panel with a backlight unit (BLU) makes up the Sony Bravia A75L screen model, one of the best types of panels used in television. Ideally blackness and extreme sharpness yield an unrivalled realism of picturesque onscreen scenery. The TV also boasts an extensive color gamut that makes it capable of reproducing more colors than most other televisions have. Such enhances the vibrancy of the scenes observed giving the viewer total sensibility. There is an outstanding OLED TV called the Sony Bravia A75L with spectacular images, an array of functions, and exciting gaming. A high-end TV, this is my best pick for you guys.
FAQs
 How clear and audible does the Sony Bravia A7 sound?
It comes with an in-built subwoofer which gives clear sound output. The TV also supports Dolby Atmos and DTS: X, so that you can experience true audio.
What is featured in the Sony Bravia A7FL TV?
For instance, Sony's Bravia A7FL comes with support for HDR10, Dolby Vision, and Hybrid Log-Gamma amongst many other features. Furthermore, it is worth noting that TV is also equipped with different smart options including Google Assistant or Amazon Alexa.
How does the Sony Bravia A7FL look?
The Sony Bravia A7FL has a thin, modern profile that will enhance any interior décor. It has ultra-thin bezels and a minimalist contemporary look.
What is the duration of the Sony Bravia A7FL?
The expectation of a very long life has been attached to OLED TVs, meaning that you should be ready for several years with the Sony Bravia A7FL.
 How good is the Sony Bravia A7FL picture quality?
This makes the Sony Bravia A7L's OLED panel which is responsible for showing more profound blacks, brilliant whites, and richer colours. It is made of the latest LCD technology with the ability of 170 degrees wide angle viewers.
What does Sony Bravia Offer?
Sony Bravia A7FL is an advanced OLED TV with a great display, good sound capabilities, and many options.
 Can Home Theatre support Sony Bravia as a good choice?
It provides the best home theatre experience for anybody who likes the leading edge of modern technology, with its OLED TV that shows stunning pictures, resolution & great sound system.