A Detailed Guide On Valley of Flowers Trek
Written by
Alison Lurie
, In
Travel
, Published On
August 27, 2021
,
222 Views
Everything About Valley of Flowers Trek
As we all know How the Covid 1st wave and Covid 2nd wave have mentally drained us in a Lazy phase and a sad phase with all the work from the Home phase and all the Negative news. With The Covid cases getting low and restrictions easing day by day this is the best time to do a trek but also not by violating guidelines and Valley of Flowers is an amazing place to go and a perfect place for this weather. Valley of flowers is located In Uttarakhand near Govindghat and the height at which it is located is 11,800 ft and originally it is National Park which has More than 300 species of Flora and some of the species which are very rare and they are not found anywhere else. Valley Of Flowers is also Internationally recognized and It is also a world heritage site declared by UNESCO.
History Of Valley Of Flowers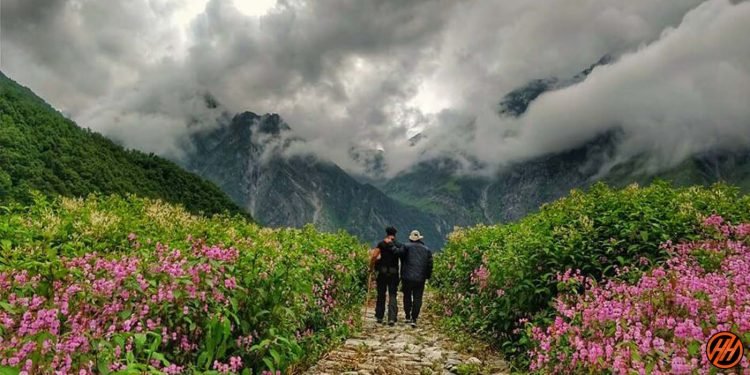 Valley of flowers was accidentally discovered in 1931 when 3 British Mountaineers they were returning from the successful mountain expedition of Mt.Kamet and they accidentally got lost and ended up in this beautiful place, As it was Undiscovered so they Named it the Valley of flowers, and Later on one of the Mountaineer wrote a book about the Valley of flowers and describing it's surreal Beauty, The Book was also titled "Valley Of Flowers". In 1939 a Botanist visited this place to study more about the Valley of flowers and the species of flora and fauna of this place, but unfortunately, she fell off a slippery path and lost her life, Her Grave is still there at the Valley of flowers to honor her death. The Valley of Flowers is an Intersection Point between the two mountain Ranges one is The Zanskar range and in the Himalayas. The Locals already knew the existence of The Valley of Flowers however they believed that Gods and Fairies lived here and those who would go to this valley would be captured by the Fairies and He/she would never return back.
The Valley blooms for almost 3 months and that is the best time to visit the valley, with the valley fully bloomed as soon as you enter the valley it will make you feel as if you are walking on a carpet and the flowers covering you from all the 4 sides will make you feel surreal and you will not regret your decision of coming to this place. Some of these Flowers are considered medicinal plants as well and also with the huge variety of Flora there is a wide range of Fauna also which is present there. In winters there have been sightings of the Himalayan Bear, Musk Deer, and also a Snow leopard.
Apart from all these things, there are several waterfalls on the way and also there are water springs and few water crossings so overall it is an amazing experience. Valley of Flowers is spread across 87.50 square km and the valley is almost 8 – 10 km long and 2kms wide. Valley of flowers is also an amazing place for Photographers, Nature lovers, Hikers, Bird watchers, and also many tourists from Foreign visit this place every year just to see the unexplored beauty of Uttarakhand.
Best time to trek in Valley of Flowers
The valley of flowers is open for 5 months only and that is from The Month of June to the month of October so that is the ideal time, however, the best time to visit is in the month of July and August as the flowers are at full bloom during that time.
The level of difficulty of the valley of flowers trek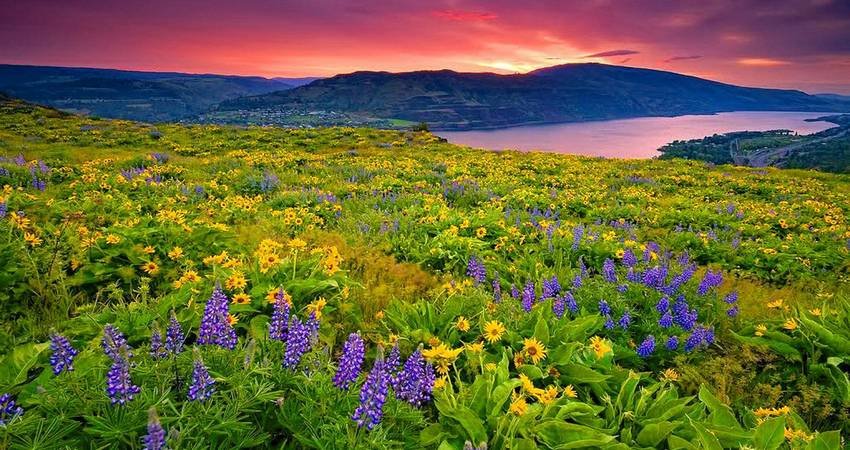 The difficulty level of this trek ranges from Easy to moderate depending on the weather conditions.
As The Valley Of Flowers is a world heritage site so you will need to register your name and you will have to pay the registration fees and you will also have to declare the number of bottles that you will be carrying with you as it is a plastic-free and litter-free zone.
The Valley of Flowers opens at 7:00 am every day and the last entry to The Valley of flowers will be allowed till 2:00 pm after that the entry will close and the Valley closes at 6:00 pm so in order to fully explore the Valley it is best that you enter the Valley at around 9:00 am and explore the valley till 5:00 pm as it takes almost 5 – 8 hours to explore and enjoy the valley. Also, there is no availability of food inside the valley so you will have to carry packed lunch and food in your day pack. Also do not litter the place while eating and carry a Bag to keep all your waste and dump the bag in the dustbin when you exit the Valley.
The Entry Fees for Valley of Flowers is –
For Indians – Rs 150
For Foreign Tourists – Rs 600
Once you Complete Valley of Flowers you can go to Hemkund Sahib and one should definitely go to Hemkund sahib if you are visiting The Valley of Flowers. Hemkund Sahib is the Highest Gurudwara In the world, at a height of 13,650 ft. Hemkund Sahib is Dedicated to Shri Guru Gobind Singh Ji. Hemkund Sahib is closed from October to April because of the heavy snowfall and the entire place is covered with snow, In May Some Sikh Pilgrims Go to Hemkund Sahib to clear the snow-covered path and hence opening the path for other Sikh Pilgrims to go to Hemkund Sahib this is known as "Kar Seva" also known as Selfless service which plays an important role in the Sikh religion.
Itinerary

Day 1 – Reach Govindghat –
Once you reach Rishikesh from your home place you will begin an 11 Hours Journey from Rishikesh to Govindghat which is a small village on the Kedarnath Badrinath Highway and that will be your first stop. Usually, the Cabs take around Rs 5000 to Rs 7000 for an SUV and around Rs 10000 to Rs 12000 for a Tempo traveler.
The Route for the first day will go like this 
Rishikesh – Devprayag – Srinagar – Rudraprayag – Karnaprayag – Chamoli – Joshimath – Govindghat. 
On the second day, you will have to drive from Govindghat to Ghangaria,The last Place till where cars will go is a small village called Poolna so from Govind Ghat it will take around 1 hour to reach Poolna and from Poolna you will Have to trek till Ghangaria which will take around 6 hrs as it is a trek of 10 km and Ghangaria is a Base camp because from Ghangaria there are two roads one that goes to Hemkund Sahib and Other that goes to The Valley Of Flowers. You will be staying at Ghangaria at night.
On the 3rd Day, you will go to The Valley of Flowers from Ghangaria and Spend the Entire day wandering around the Valley and come back to Ghangaria by the evening and spend the night there.
On the 4th Day, You will go to Hemkund sahib from Ghangaria, This trek will be tough because it has steep climbs and the altitude goes from 9,600 ft to 14,000ft and also because of the sudden steep climb your body can feel a lack of oxygen as well so it is better to climb it easily. It takes usually 4 hours to climb Hemkund Sahib and the downwards journey is a steep descent. You will come back to Ghangaria at night and spend the night there .
On The 5th day, you will start your return journey from Ghangaria and you will trek till Poolna which will take approx 6hrs and from Poolna you will go to Govindghat which will take approx 1hr or 20 km. You will have to spend your night in Govindghat.
From Govindghat you can go to Kedarnath and Badrinath the following day as Badrinath is one of the holy Places of the Char Dham yatra and Kedarnath is also a Holy place in Char Dham Yatra.
On the 6th day, you will start your journey from Govindghat to Rishikesh which is 11 hours and Rishikesh will be your endpoint for the Valley of flowers trek.
From Rishikesh, you can return back to your home or if you want to explore Rishikesh you can explore it and a couple of small places.
This was the detailed Guide for the Valley of Flowers trek, Hope it addresses whatever information you are looking for in your planning of the valley of flowers trek. Now without any further delay, plan your Valley of flowers trek with your nature lover friends or enthusiastic friends and enjoy the surreal beauty of Uttarakhand and visit the Highest Gurudwara for Sikhs in the entire world.