How to Choose Bathroom Vanity Units?
Written by
Alison Lurie
, In
Home Decor
, Published On
February 15, 2022
,
55 Views
As bathroom storage is an essential of every household, bathroom vanity units have become a popular fixture. You would agree that modern living is stressful. That ultimately affects our health. The few moments of peace and relaxation can be great for us. A bathroom can certainly be your refuge from the outside world.
Whether you take a relaxing bath at the end of a hard day out or a quick shower to refresh yourself before going out for work, your surroundings in the bathroom can have a huge impact on your mood. It is only possible when everything in the bathroom is organized and at its place. That means you need to ensure that your bathroom is not full of clutter. Our modern lifestyle demands that we keep a lot of items in the bathroom that ranges from toiletries to hair and skincare products.
If you are planning to add a bathroom vanity unit, then it will be worthwhile to get answers to a few important questions relating to it.
What Is a Vanity Unit Used For?
The Bathroom vanity units are simply a type of bathroom furniture that has a sink fitted on top of it. The under the sink cabinets offers the space to store bathroom essentials. It makes sense because if you have an ordinary sink, the space underneath will go wasted. In addition to that, all the pipe works and plumbing will remain concealed that otherwise be spoiling the aesthetics element of your bathroom.
How to Choose Bathroom Vanity Units?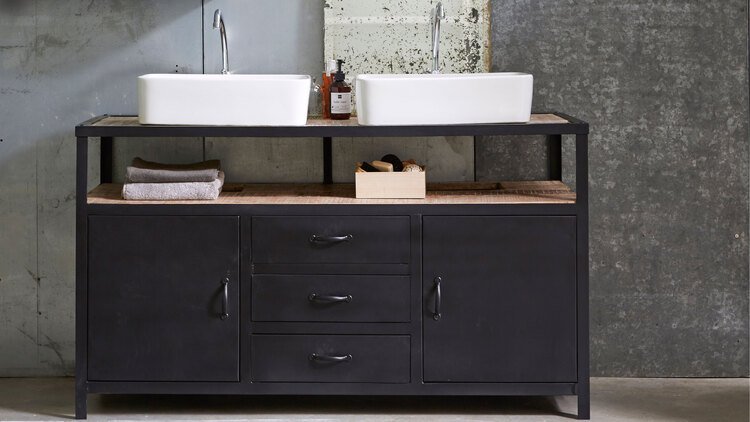 It is important that you follow a step-by-step approach to pick the best bathroom vanity units.
Step-1  – Estimate The Space You Have Available.
The first step should get an idea of how much space you have available in the bathroom. It will help you decide the size that you will need for your bathroom. While you may have no flexibility related to width and depth for the vanity unit but in terms of height, you may choose as per your desire. It is important that you also leave some room for opening the drawers. It should not have any interference.
Step-2 – Single Vs. Double Sink Vanity Units.
Depending on the space available, you will have to choose between single or double sink vanity units. If your ample space is available, then you may decide to choose a double sink vanity. For small spaces, you will have no other choice but go for a single worktop sink storage furniture.
Step-3 – Wall Hung Vs. Freestanding Vanity Units.
The available space usually dictates another choice. That is choosing between the wall hung or a freestanding vanity. If you are short of space or have a cloakroom, then your options will remain limited to the wall-hung vanities and compact freestanding vanity. For bigger spaces, you can choose any style or size depending on your style and storage needs.
Step-4 – Traditional Vs. Modern Vanity Units.
When it comes to choosing a bathroom vanity unit uk, you have to choose between a traditional or a modern style vanity unit. The wall hung style is usually taken as luxurious and contemporary. At the same time, freestanding large-size vanities with some sort of traditional style design is suitable for classic looks n the bathroom. On the other hand, there are options available with modern freestanding vanity units as well.
Are Bathroom Vanity Units Waterproof?
Keeping in mind that the bathroom is a space that has humid where vanity units have consistent exposure to water splashes and water, it is natural to think that such units need waterproof material. But the truth is that the material used for the vanity units is engineered wood and does not have waterproofing. But it can withstand exposure to humidity better than natural wood. That's why MFD is used for vanity units.
How to Protect Your Bathroom Vanity Units from Moisture?
Although the material of the bathroom vanity units is moist resistant, moisture may still damage it. You can protect your vanity units with a little care. You can simply paint it with waterproof quoting that will eventually protect it from the humidity. In addition, you should try to keep the surface clean and dry. It will prevent discoloration and prolong its life.
Final Thoughts about Bathroom Vanity Units.
While bathroom vanity units are an essential need for your bathroom, it is equally important to ensure that you make the right choice. We have provided you with answers to some important questions that you may have in your mind. These will help to clear any misconceptions you may have about the bathroom furniture. You can check our range of bathroom fittings and fixtures at Royal Bathrooms online store in the UK.